Equipment for simultaneous interpreting and technical assistance
We install conference interpreting equipment for your events and provide technical assistance before, during and after your conferences, congresses, symposia or meetings. We can also install a sound system if the venue of your event does not have one or if it is inadequate..
Radio frequency equipment for simultaneous interpreting
When interpreters translate simultaneously, they must be able to clearly hear the speaker and to transmit their translation to their listeners. This requires fit-for-purpose equipment and a specific work environment described below:
Sound-proofed translation booth: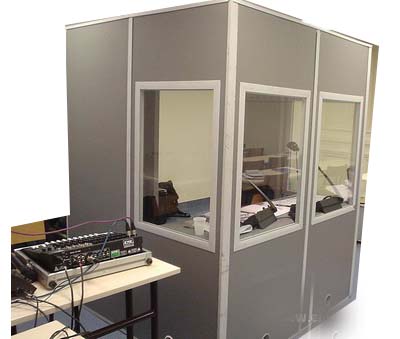 Our interpreting booths comply with the ISO 4043 standard and offer interpreters an ideal work environment since they are sound proofed and enable the interpreters to work without sound interference from the meeting room.
Translation headsets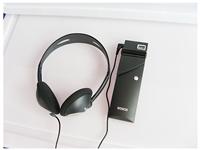 Translation headsets are distributed to attendees before the meeting. The attendees can choose different channels to select the language they want to listen to.
Interpreting travel case: portable equipment for industrial visits, tours and fields trips.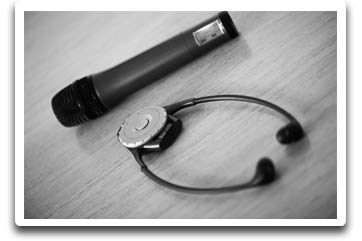 This type of equipment is used when it is not possible to install an interpreting booth. It enables interpreters to "whisper" into a radio frequency microphone that transmits their translation to the headsets-receivers worn by listeners during site and factory visits.
Sound systems for auditoriums and conference halls
Sound system for "panel discussions": panelists are seated around a "U-shaped" or rectangular table.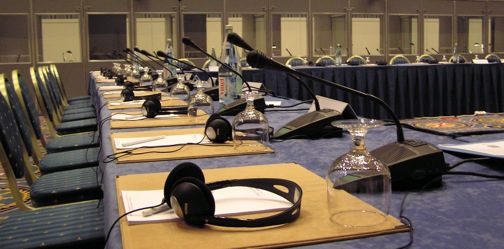 Each panelist has a microphone that they switch on by pressing a button when they wish to speak: this system enables each panelist to be heard by the other participants. It also gives interpreters the satisfactory sound quality they need to properly interpret.

Example of a meeting room in a "conference" or "auditorium" format where the audience is seated opposite the speaker: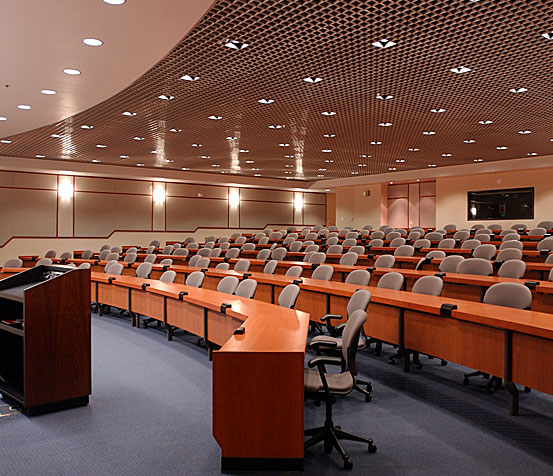 Loudspeakers are installed on each side of the stage and a table microphone and a console are provided for the speaker. Roving mikes are also provided for the speaker and/or audience.
Example of a sound system that can be used in an auditorium.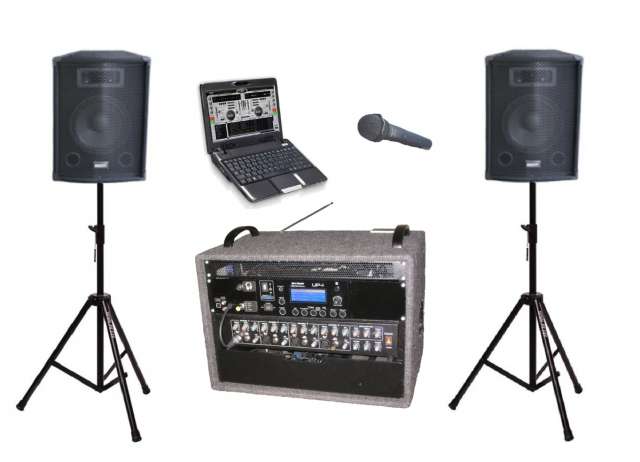 Technical assistance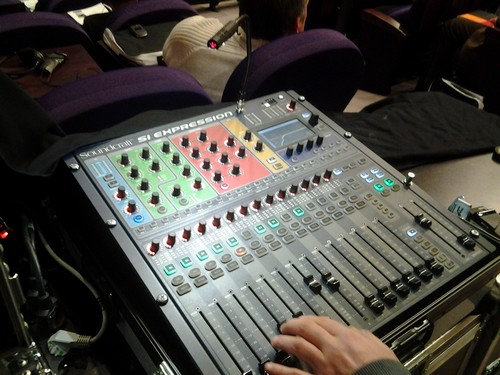 The level of sound of the source (the speaker) must be balanced with the level of sound released by the transmitter (the interpreter) for each configuration and meeting room. The presence of an experienced technician is therefore crucial to ensure that the meeting runs smoothly. Our technicians provide technical assistance before, during and after your event. They install the sound system and the interpreting equipment, provide the necessary technical support, ensure the proper functioning of the equipment during your conference, congress, symposium or meeting and remain on site to resolve any problems that may arise. At the end of your event, our technicians dismantle and remove the equipment.
We mainly cover the following regions:
Western France, Brittany, Normandy, the Loire Valley, the Greater Paris area / Regions of Rennes, Nantes and Caen and the city of Paris. We also undertake interpreting assignments throughout France and can accompany our clients who organize events abroad.